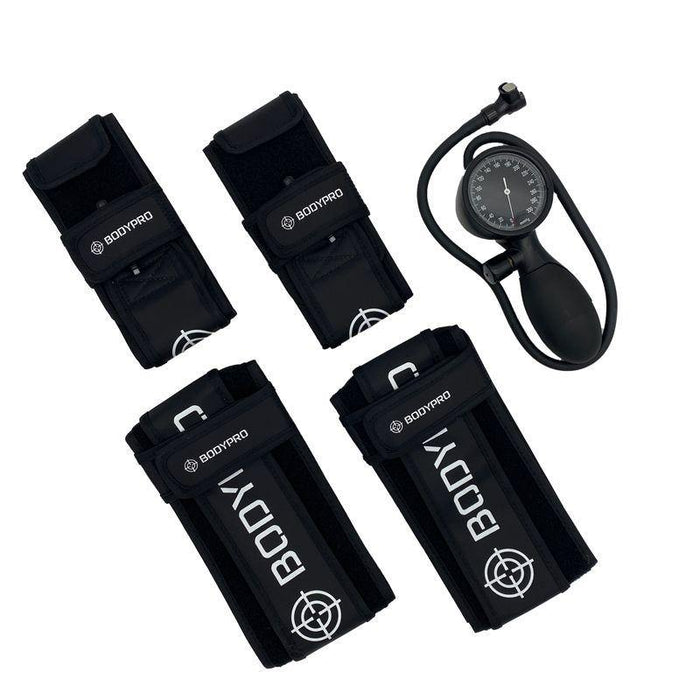 Blood Flow Restriction Cuff Set 4 Bands w/ Pump
Save

$30.00
Save

$30.00
Original price
$219.00
-
Original price
$219.00
Blood Flow Restriction therapy is a game-changer in the world of rehabilitation and athletic training. The new BodyPro BFR cuff set, also commonly called "BFR Bands," can help you increase muscle strength, muscle size, and muscle endurance with even low loads. BFR training is an ideal therapy for rehabilitation, performance, and everyday training.

Curious about how Blood Flow Restriction Training works? Please read our blog post on blood flow restriction bands here.
What's Included:
2 Cuffs With Quick Release Valve for Upper Body
2 Cuffs With Quick Release Valve for Lower Body
1 Manual Pump with Tubing
Carrying Case
1 Tubing
Features:
Make Workouts more effective: Boost muscle growth 200-300% increases in the involved muscles with occlusion training.
Easily Portable: Included carry bag, easy to carry and store.
Easy to Use: They are fit for anyone from beginners to professionals with practical and straightforward designs.
Use Lower weights: A load of 20% shows similar benefits to training at 70% of max, with no more significant health risk than traditional exercise.
Made from Strong but Comfortable material: Won't slip up or down roll during exercise, and soft surfaces don't rub against your skin.
Athletes from many different sports can benefit: From yoga to lifting to their own at-home workout program,Blood flow restriction training can be used in any situation where the goal is to increase muscle hypertrophy and strength.
Multi-Benefits: Not only official to muscle growth, auxiliary training, but also to avoid muscle wastage after injury.