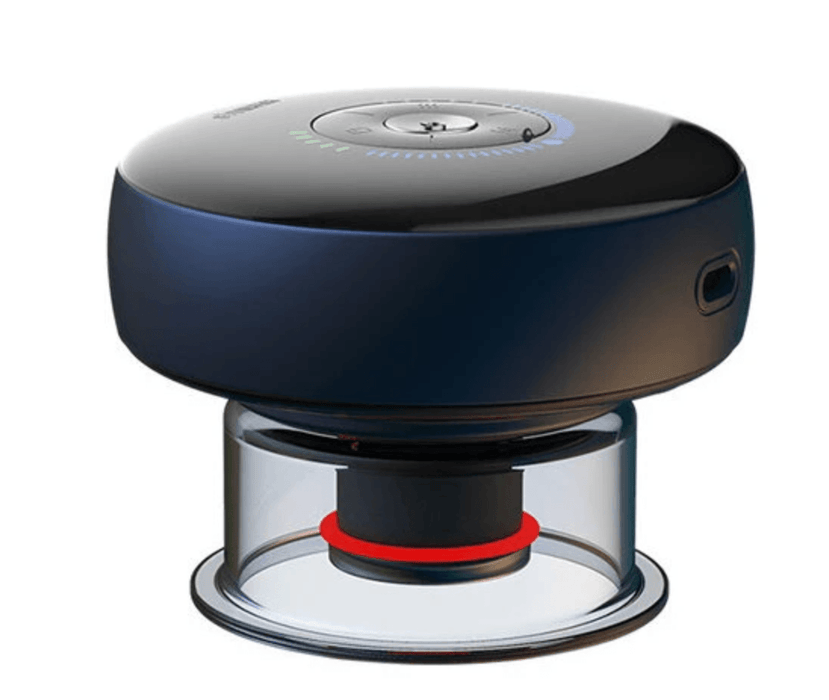 Smart Cupper Massager Automatic Rechargeable Therapy Device
Sold out
Original price
$99.00
-
Original price
$99.00
A multifunctional cupping massager combining dynamic suction, smart massage, and red light therapy in one device. This is an incredible recovery tool for athletes for pain Management and myofascial release. The SMART Cupper Massager is a perfect choice for professional or home use.
FEATURES:
1. Negative Pressure provides powerful suction to your skin and adipose tissue to activate lymphatic detoxification function and enhance blood circulation.
2. Simple Operation allows quick access to the button controls and direct display indication on the panel. Features a convenient way to monitor the operational status. Instantly power on/off or adjust the vacuum intensity level as desired.
3. Built-in rechargeable lithium-ion battery in the unit. It can be directly powered by a convenient USB-C charging Cable, making it practical to enjoy a relaxing massage anywhere and anytime. This device is suitable for both home and travel use.
Color of Cupping Marks for Health Status:
Slightly red: good local blood circulation
Bright red: localized deficiency heat
Dark purple: poor local circulation
Grey-white: weakness and lack of blood flow 
OPERATING TIPS:
View Instruction Manual Here. 
Power On: Long press the power button for 1.5s with a beep to turn on the machine.
Cupping Function: The cupping function will start automatically when the machine is switched on. A short press on the power button will pause cupping after the device detects its application to the skin. The heat, red light, and vibration will automatically switch on.
Mode Selection: Press the mode button for different cupping experiences (M1: energizing, M2: soothing, M3: deep, M4: professional).
Adjusting the vibration: Short press the intensity key to adjust (5 intensity levels). Long press for 1.5s to turn off the vibration function.
Adjusting the temperature: Short press the control key to adjust the temperature gear. There are five adjustable temperature levels—long press for 1.5s to turn off the red light function.
Intelligent control: Connected to the remote program control.
CLEANING TIPS: 
After use, wipe with a dry or damp towel and replace the filter cotton as needed. Do not immerse in water or expose the battery to excessive heat. The unit takes approximately 2.5h to charge and can be used 6-8 times once fully charged.
What's In the Box:
1 x Electric Cupping Massager
1 x USB Cable
1 x Instruction Manual
1 x Storage Case
Specifications:
| | |
| --- | --- |
| Weight |  0.25 kg |
| Dimensions |  10×10×7 cm |
| Battery Life | 3 Hrs |
| Charging Time |  2.5 Hrs |
| Suction Intensity |  -60~0 kPa |
| Wavelength |   630-670nm |